Kamphans Landscape Architecture
Dietmar Kamphans, Owner
Germany
Eichendorffstrasse 35, 71735 Eberdingen
Postfach 2107, 71733 Eberdingen
Phone +49 7042 870 22 8
Fax +49 7042 870 22 9
Mobile +49 178 870 22 82
Kingdom of Saudi Arabia
Mobile +966 50 611 9174
E-mail
[email protected]
Associate in Chamber of Architects in Baden-Wuerttemberg as registered Landscape Architect, Registration Nr. 50 413. For the regulations of the chamber of architects refer to www.architektenkammer-bw.de
Worldwide professional indemnity insurance with VHV "Vereinigte Allgemeine Versicherung A.G." in 30177 Hannover, VHV-Platz 1,
Germany. Phone +49-511 9070
Liability exclusion for all links: We declare definitely that we have no influence regarding design and contents of any page and/ or link chosen from our site.
Therefore we exclude all liability for whatsoever content of such sites and/ or links.
No part of this publication may be reproduced, stored in a retrieval system, or transmitted, in any form or by any means, electronic, mechanical, photocopying, printing, recording, or otherwise, without permission in writing from the publisher. Copyright of photographs, texts, drawings by Dietmar Kamphans
All rights reserved.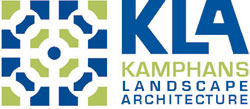 KLA
Kamphans Landscape Architecture
Eichendorffstraße 35
71735 Eberdingen
Phone +49 178 870 2282
Fax +49 7042 870 229
Competences
Waterfront Design
Urban Design
Master planning
Xeriscape Garden design
Public plazas and open spaces
Private Garden design
KLA's work is concentrating in the Near and Middle East and the entire Mediterranean region