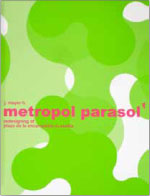 J. MAYER H. -
metropol parasol
Trademark Publishing
ISBN 3-88609-519-3 (English & Spanisch)
Metropol Parasol" is the new icon project for Sevilla, - a place of identification and to articulate Sevillas role as one of Spains most fascinating cultural destinations. "Metropol Parasol" explores the potential of the Plaza de la Encarnacion to become the new contemporary urban centre. Its role as a unique urban space within the
dense fabric of the medieval inner city of Sevilla allows for a great variety of activities such as memory, leisure and commerce. A highly developed infrastructure helps to activate the square, making it an attractive destination for tourists and locals alike.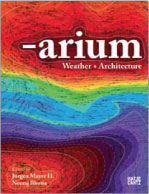 J. MAYER H. -
arium
Trademark Publishing
ISBN 978-3-7757-2540-8 (english)
Architecture. Examining the relationship between the atmosphere, built environment, culture, and politics, this comprehensive research project—under the direction of
the architect Jürgen Mayer H. from Berlin and the urban designer Neeraj Bhatia from Toronto—offers an in-depth look at our contemporary understanding of weather
through critical examinations of design and architecture.
J. MAYER H. -
ACTIVATORS
monograph
Trademark Publishing
ISBN 89-91111-21-1(english & Korean
Something in the work of J. MAYER H. catches our eye immediately, a stange beauty born out of an uncanny fushion of elegance and heaviness, iconicity and
disfiguration. Layers of (dis)information wrap around the objects and prevent us from getting to the heart of things so easily. As if embarrassed by it's own discipline, his
architecture comes often in disguise, crossdressing as th other of itself. ...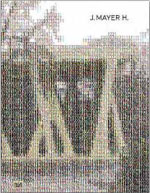 J. MAYER H. -
J. MAYER H.
Trademark Publishing
ISBN 978-3-7757-2223-0 (English)
ISBN 978-3-7757-2222-3 (Deutsch)
Edited by Henry Urbach and Cristina Steingräber, this is the first book to present the entire oeuvre of J. MAYER H., starting with research and moving through design to
project development, and culminating in the actual building itself. A number of renowned authors, such as Rolf Fehlbaum, Andres Lepik, John Paul Ricco, Ilka und Andreas Ruby, Felicity D. Scott, Henry Urbach, und Philip Ursprung take a variety of approaches toward positioning the office's work in today's international architecture scene.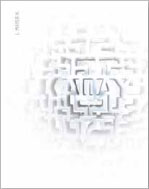 J. MAYER H. -
A.WAY
Trademark Publishing
Hardcover ISBN 978-3-9813228-5-9 (English)
eBook version ISBN 978-3-9813228-6-6
A.WAY: catching future by the fairytale .... A.WAY is a fairytale exploring the potential of digital technologies in the context of the future of mobility. It takes the reader on a journey to discover the creation of Pokeville, a model of future cities in which cars turn from viewing machines for maneuvering through traffic to sensorial experience machines. In Pokeville, the car becomes a catalyst for social interaction and a personalized perception of the city. It invites you to wander A .WAY. ...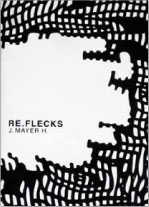 J. MAYER H. -
RE.FLECKS
Trademark Publishing
ISBN 978-3-00-031368-4 (English)
J. MAYER H.'s work is characterized by transformation, fragmentation, and the concealing and revealing of information. From the beginning of his artisticarchitectural
practice Jürgen Mayer H., founder of J. MAYER H. Architects, has been collecting data-protection patterns typically used to obscure confidential information,
employing them in a modified form in his spatial installations and façade designs. The two-dimensional patterns form a point of departure for his sculptural and spatial
concepts, so that the patterns used take on the function of a graphic enclosure.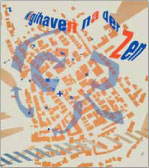 J. MAYER H. -
Nigihaven na der Zen
Trademark Publishing
ISBN 3-00-009039-8 (Deutsch)
"Nigihaven na der Zen" ist ein Projekt, welches der Stadt Impulse zur eigenständigen Veränderung geben soll. Der Titel des Projektes ist ein Anagramm, d.h. ein Buchstabenversetzrätsel aus den Buchstaben von Vaihingen an der Enz und verweist zum einen auf das Thema des Verschiebens von Gewohntem und zum
anderen auf seinen spielerischen Charakter.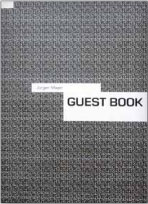 J. MAYER H. -
GUEST BOOK
Trademark Publishing
ISBN 3-00-000922-1 (English)
Guestbook by Jürgen Mayer H., is a limited edition book composed solely of sheets printed with data protection pattern. A touchstone of the studio's work and focus
of the exhibition Patterns of Speculation: J. MAYER H., data protection patterns are ubiquitous, jibberish-like image types that serve to conceal other information,
including bank statements, shipping labels and paycheck stubs.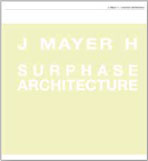 J. MAYER H. - surphase architecture
2002 (Deutsch & English)
For centuries the relationship between space and surface appeared clear. Provided one understands space as an empty volume enclosed by walls. The surface, the
outermost layer of the wall, defines a space. Modernism has altered this relationship. The wall is disolved in the transparency of glass architecture, the surface no longer impedes the view and space extends outside through the transparent facade...

J. MAYER H. - wirrwarr
Trademark Publishing
ISBN 978-3-7757-2779-2 (Deutsch)
Jürgen Mayer H. verbindet in seiner ArbeitArchitektur, Produktdesign, Grafik und Kunst. Zu Mustern verschlüsselte Zahlenund Daten sind ein immer wiederkehrender
Bestandteil seiner Architektur, Zeichnungen und Objekte.
J. MAYER H.
Zementhaus
Knesebeckstraße 30
10623 Berlin
Phone +49 30 644 90 77 00
Fax +49 30 644 90 77 11
Competences
Urban Planning
Residential Buildings
Office Buildings
Visual Communication
Object Design
Interior Design
Portraitphoto
Jens Passoth