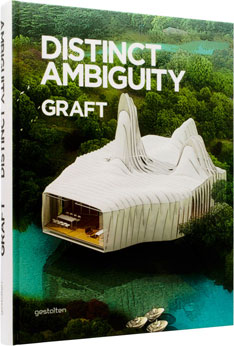 Distinct Ambiguity
GRAFT
Visionary architecture with a conscience.
By: GRAFT
Editors: Dr. Katja Blomberg of Haus am Waldsee, and GRAFT
Release Date: November 2011
Format: 21 x 28 cm
Features: 208 pages, full color, hardcover
Language: English
ISBN: 978-3-89955-392-5
As their name suggests, GRAFT's groundbreaking architecture and design crosses boundaries and "grafts" the creative potentials and methodologies of different disciplines to each other. By doing so, the collective has created a pioneering visual language that takes surprising and seemingly contrary combinations of ideas and melds them into projects that are aesthetically innovative as well as sustainable and socially meaningful. Distinct Ambiguity is the first book to present GRAFT's comprehensive body of work. It is structured into 5 thematic chapters that reflect the fundamental aspects of the collective's inimitable approach. Each chapter—Ambiguity, Curiosity, Narration, Happiness, and Courage—is illustrated with stunning visuals of the work that best exemplifies the concept, from the celebrated projects of the Make It Right Foundation in New Orleans to resorts in harmony with their natural surroundings, zero-energy villas, and whimsical home furnishings.
Graft GmbH
Gesellschaft von Architekten
Heidestraße 50
10557 Berlin
Telefon +49 30 240 47 985
Fax +49 30 240 47 987
Partner
Lars Krückeberg
Thomas Willemeit
Wolfram Putz
Gregor Hoheisel (Beijing)
Leitende Mitarbeiter
Sven Fuchs
Tobias Hein